William Heptinstall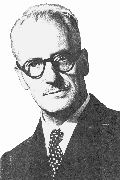 William Heptinstall, who died in 1971, was a well-known British chef. He was patron of Fortingall Hotel in Glen Lyon, Perthshire, Scotland, a haven for lovers of good food and especially famous for its Sunday hors d'oeuvre table.
A Yorkshireman by extraction, Heptinstall became a Freeman of the City of London and a Liveryman of the Worshipful Company of Bakers. While he took immense pride in British food, he was also deeply interested in European gastronomic traditions. He travelled extensively and worked for a time in Imperial Russia. His memory is revered among culinary professionals to this day.
He was the author of two full-length books, which are still considered classics of their kind: Hors d'Oeuvre and Cold Table, which won the Silver Medal at the 1960 International Art of Cookery Exhibition at Frankfurt, and Gourmet Recipes from a Highland Hotel.
The William Heptinstall Memorial Fund
This Charitable Trust was established in 1972 in his memory by his niece, the late Mollie Lowrance. For almost 50 years it has given awards to enable young chefs to widen their knowledge of the craft through travel and study.
Janet Davies
At its meeting on 25 May 2022 the Trustee Directors paid tribute to Janet Davies as she stepped down from her role as a Trustee Director after almost 7 years. During this time she had focused on organising and managing the annual interviews, and on liaising with Winners throughout the completion of their stages.